What is a tagine, anyway? Well, it's a Moroccan cooking pot, the ones you've seen with the conical tops, and it's also the dish that is cooked in said pot. However, you can also cook a tagine in a covered casserole, a Dutch oven or a crockpot. It's a long braise over low heat, with the ingredients on the bottom cooked in liquid, and those on top cooked with steam.
What I love most about Moroccan tagines are the spices that are used to flavor the dish. You may have heard about Ras El Hanout, a Moroccan spice blend made up of allspice, nutmeg, black pepper, mace, cinnamon, cardamom, ginger, turmeric, cumin, cloves, coriander, paprika, fenugreek and cayenne. Many of those I use in my baking, but in Moroccan cuisine, in they go with the meat, veggies and dried fruit. Oh, and the preserved lemons, saffron and olives.
Ooooh….the spices. You have to try this recipe. I made it in a casserole dish and covered it with aluminum foil, which worked perfectly. But I loved the finished dish so much that I went to Sur la Table and bought a real Moroccan tagine, conical hat and all. I am looking forward to making some chicken, lamb and beef stews, which I will be bringing to you in the near future.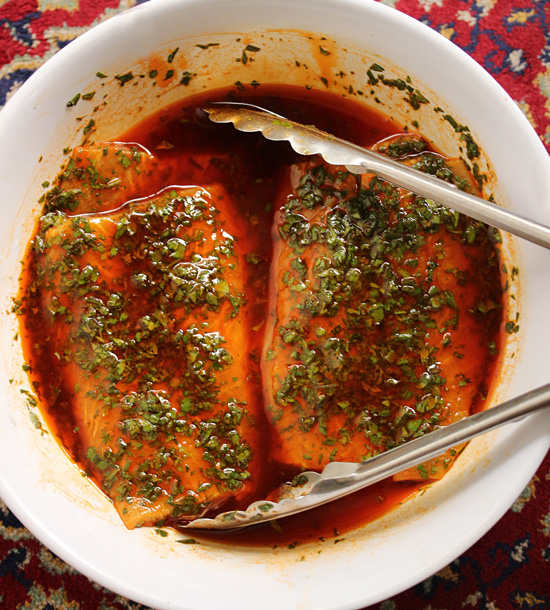 First the fish fillets are marinated in a mixture of olive oil, paprika, saffron, ground ginger, lemon juice and minced cilantro and parsley. The paprika and saffron color the marinade a deep rich red.
The casserole is layered with carrots, sliced onions and tomato sauce, and baked until the carrots are soft. Next the fish fillets are laid on the vegetables, the marinade is poured over, olives are strewn about, and the fish topped with preserved lemon and the lemon slices. I used one slice per fillet, but I recommend two slices. They're such a perfect addition to the whole flavor profile. Then the casserole is popped back in the oven to cook the fish and it is finished with a flurry of fresh cilantro. Oh man! Those Morrocan flavors are remarkable! So beautiful. Like a work of art.
{ 2 comments }